By Francie Kelley, Executive Director, Celiac Kids Connection
The annual holiday party is always one of the most fun days for members of Celiac Kids Connection. This year's event at Brandeis on December 3rd was no exception.
Over 300 members attended. We tasted products from the 15 vendors, who came to the event, and from many others who sent samples. We enjoyed a catered gluten-free (GF) lunch from Lola's Italian Groceria of Natick and a spectacular cake made by our board member Debbie Ferguson.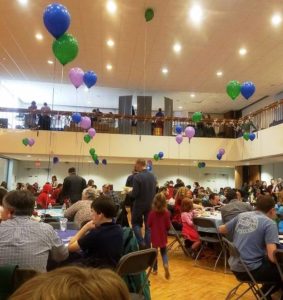 Over 20 vendors donated door prizes and we recognized several members who made contributions to the group this year. The Marina Keegan award for service to the celiac and GF community was given to Emma Griffin. Emma is an active teen member of our group; serving as a mentor and writing for our newsletter. Two of our teens, Dana Lowitt and Lilly Kripp, were recognized for completing Green Ribbon Projects. Teens take on these projects to benefit the members of our group.
We also recognized our mentors. Thirteen of our teen members are acting as mentors to our newer members. They are all doing an amazing job.
Kids had a chance to decorated a GF cookie and we all worked together to create a GF gingerbread house. The gingerbread house will be on display in the lobby of the Waltham location of Boston Children's Hospital (9 Hope Ave, Waltham, MA) beginning on December 15th.
The highlight of the party was dancing till dawn with DJ Mike! Well, this was a family event; the dancing really ended at 3 pm. But, we had dozens of kids out on the dance floor right up until it was time to leave.
We all had a terrific time and cannot wait until next year's party.