By Francie Kelley, Executive Director, Celiac Kids Connection, Boston Children's Hospital
The Boston Children's Hospital culinary staff hosted another "Kids in the Kitchen" cooking demonstration focused on gluten-free (GF) foods.
This time the kids learned to make arepas. We were led by Chef Travis and Chef John.
Arepas are flat-breads made of ground maize and loaded with a variety of toppings. The flat-breads are naturally GF and are found in the cuisine of Columbia and Venezuela.
We gathered in the Chef's Playground area in the back of the cafeteria at the downtown Boston location. Chef's Playground is an open cooking area. When seated, you can watch and interact with the chef.
Chef Travis and Chef John each made different arepas batter. Both versions started with masa harina, traditional corn flour used in Central and South American cooking. Chef John made arepas the traditional way; using the masa and water. Chef Travis used the masa and added milk and chihuahua cheese, a soft white Mexican cheese. Both versions were delicious. The traditional batter was ready right away. Chef Travis's version was softer and the batter needed to be refrigerated overnight.
Once the batter is ready, the arepas are formed like a pancake and cooked on a cast iron skillet or grilled. They cook for 2 minutes on each side. You can use as much of the batter as you like and store the rest in the refrigerator. Both batters can be kept for 4 – 5 days.
The Colombian version of the arepas is like a pizza, the crust is flat and you top it as you like. The Venezuelan version is slightly thicker and it is cut in the middle. The "toppings" are put in the middle, more like a taco. Both versions are considered finger food and often found at food stands.
Chef John is a native of Colombia. Not only did he often eat arepas from food stands but it was a staple at home. Most days breakfast was an arepas with queso fresca; a creamy soft unaged cheese. This is an easy and tasty breakfast.
After watching and learning how to make the arepas, the kids were given an opportunity to top their own. They had vegetables, black beans, pico de gallo, shredded cheese and a variety of proteins to choose from. The chefs had previously prepared; pulled chicken, pulled pork, and steak. While we watched they grilled chicken breasts. Once topped the finished arepas was baked until the cheese melted. Every version was delicious.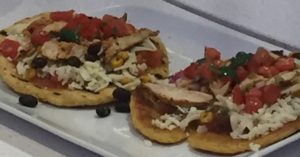 The most important ingredient for topping an arepas is your imagination. Once you have the arepas crust any type of toppings will work. Chef John even told us about fruit versions he has eaten.
The class was a lot of fun. We left with samples to take home and looking forward to the next class.