Celiac Kids Connection 2021 Holiday Party!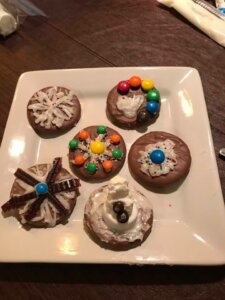 Yay! It's holiday party time! We all can't be together again in person this year but we still know how to PARTY!  Please join us on Sunday December 5th at 12 noon for some gluten-free virtual holiday cheer!
As usual there will be fun for all; silliness with Big Joe, games for older kids, treat decorating, dance parties and of course Goodie Bags! Since space isnt limited on Zoom – members and non-members are welcome to Join!   Family Ticket is $15 and includes access to all of the online festivities and goodie bag that includes your treat decorating kit.
Goodie Bag bags can be picked up at Boston Children's Hospital (BCH) in Waltham, mailed or at a local porch pickup.  Don't want to make dinner after picking up your goodie bag in Waltham – You're in Luck! We have partnered with Tempo and Better Grains to offer you the option of buying dinner and dessert.  See the details and ordering instructions below.
Goodie Bags Pick-up options : 
Boston Children Hospital Waltham Drive-Through
Goodie Bag Drive Through on December 4th from 2 to 4:00 at BCH in Waltham.  
Optional Add on:   Better Grains treat box and/or Tempo dinner  
(Details & ordering instructions below)
Porch Pick-up
Bags will be available at various homes in Belmont, Braintree, Canton and Marlborough for pick-up. Bags will be out between 9am-8pm Thursday 12/2 to Saturday 12/4.  
Mail
We can mail your Goodie bag to you. The postage charge is $12.
Shopping LIst
You can forgo the goodie bag and we will send you a list of any materials you will need to participate in the activities.
Dinner and Dessert Add-on
Only available if coming to Waltham for Drive-Thru 12/4
Better Grains Treat Box – $6 per box- Will be added to your goodie bag
Each holiday treat box includes 4 blizzard brownies. These are fudgy brownies with white chocolate chips and powdered sugar. Orders must be placed by November 28th.
Tempo Dinners – Pick up down the street at Tempo just 4 minutes from BCH
The dinner will be refrigerated at the time of pick-up and include heating instructions. All meals are gluten-free and serve a family of 4.
 Coq Au Vin Shepherd's Pie – $48
Red Wine Braised Chicken, Bacon, Lardons, Carrots, Mushrooms, Pearl Onions, Turnip, Leek & Mashed Potato Crust
Chicken Parmesan – $60
GF Panko Crusted All Natural Chicken, Housemade GF Pasta, Marinara
Dietary restrictions in addition to GF can be accommodated if you let us know when you place your order. Orders must be placed by November 29th.
Tempo dinners and Better Grains boxes will only be available to pick-up in Waltham. Pre-orders will be required for both.