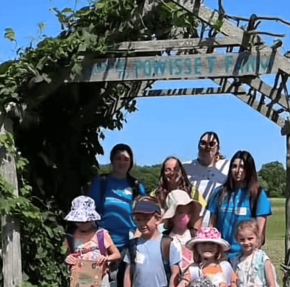 This year the Trustees will again offer a gluten-free week of Farmer, Forester, Chef! summer camp at Powisset Farms in Dover, MA. Here, children ages 6-12 will be able to dig in — on the farm, in the forest, and in the kitchen. During this special week, all ingredients used at camp will be gluten-free. Children with celiac disease, their siblings, and friends are invited to join this fun-filled week!
Farmer, Forester, Chef! is designed for campers who love the outdoors, caring for farm animals, cooking in the kitchen, getting their hands dirty, connecting to the land, using their imagination, and tapping into their resilience no matter the weather
Camp registration for summer 2023 opens for CKC members on January 12 and for the general public on January 17. Please plan to register early as the camp typically fills up within the first day of registration. Use the code BCHCDPFUN23 to register.
The Boston Children's Hospital Celiac Disease Program is able to offer a limited number of scholarships for children with celiac disease to attend the 2023 camp program. Gift cards for gas are also available to defray transportation costs to and from camp. Click here to view the scholarship eligibility requirements and apply for a scholarship.