Chef's Dinner with Chef Avi Shemtov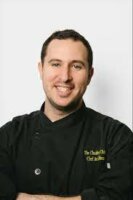 SAVE THE DATE!!
We are hosting a chef's dinner with Chef Avi who will demonstrate how to make his gluten-free fried chicken. You will have the opportunity to watch and learn or cook along. You will also have the ability to pre-purchase a family dinner. 
Avi Shemtov is a chef and author. His restaurants include Simcha (Sharon, MA) a La esh (Sharon, MA) and the Chubby Chickpea (Food truck). His cookbooks include "The Single Guy Cookbook" and "The Simcha Cookbook". Chef Avi specialized in Israeli cuisine and Mediterranean delights.
More details and registration coming soon.