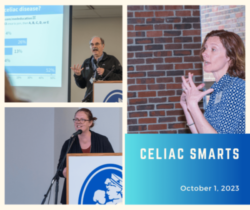 A one-day symposium with learning opportunities for seasoned medical providers and the national celiac community.
Tickets:
In-person Adult (ages 13 and up)                     $30 per person
In-person Child (2 – 12)                                    $25 per person
In-person with CE Credit                                   $45 per person
Under 2                                                             Free
Virtual with CE Credit                                        $30 per person
Virtual                                                                $10 per person
Join us at the Sheraton in Needham, MA on October 1, 2023 for the 3rd annual Celiac Smarts. This year's event is both in-person and live-streamed.
Our program will look at celiac disease (CD) through the ages – past, present and future.
We will begin looking at the evolution of diagnosing CD and how this past influences the future of celiac diagnosis. Our exploration of the present state of CD will look at barriers to implementing the gluten-free (GF) diet, culinary medicine to aid in adhering to the GF diet and more. We will also look towards the future of CD and if there is treatment beyond the GF diet?
A light breakfast and lunch will be served. There will be a vendor area and opportunities for you to engage with others in the celiac community.
This is a family friendly event. Kids are welcome in the presentations and in addition we will have targeted programs for kids.
CE accreditation is available for those attending in-person and for those who join us via the livestream.