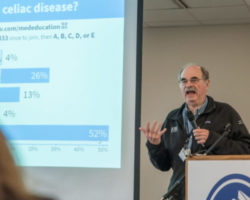 Will be rescheduled as a webinar at a future date
An education day with an emphasis on current celiac disease research. Our day includes:
Presentations from our BCH Celiac Disease Program Staff
Presentations from members of Celiac Kids Connection
Lunch conversations on topics of interest such as; 504 Plans, Meal Planning, School Lunches, and Travel
AND MUCH MORE!
Kids are welcome. Many of the talks will be suitable for kids and we will have a special kid's room with games, crafts and celiac themed projects.
A GLUTEN-FREE LUNCH WILL BE PROVIDED
Note: Doors open at 9:30 am and sessions begin at 10:00 am.