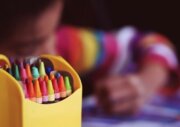 Join your Boston Children's Hospital Celiac Disease Program team to learn more about attending school safely with celiac disease. We will discuss federal laws and regulations that govern this autoimmune disease, the appropriate type of plan to set up, reasonable accommodations, and how to get individual support for your family. This meeting is appropriate for families with a child of any age including early childhood through college.
This meeting is a group meeting. We recommend all families attend this session first and then proceed with setting up an individual meeting to develop the 504 plan. There are no fees associated with any of our Celiac Disease Program school support services.
Meetings are held on Tuesdays and Thursdays.