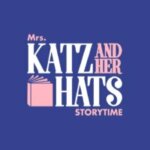 Join us and your gluten-free friends for story time with Mrs. Katz. See which of her 200 hats Mrs. Katz will wear during this month's story time!
Mrs. Katz has been reading to children for over 30 years and makes all the stories she reads fun. In addition to the stories, Mrs. Katz loves to answer your questions.
This month our theme is WINTER FUN!